12th June 2017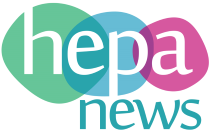 Follow @the_hepa
The new hepa.ac.uk
As you may have noticed, we now have a new website! We've made lots of changes to improve the site for you, which you'll no doubt discover as you use the site week to week. However here is a summary of some of the main points – I'll round up the rest in next week's bulletin.
Content - We have been through all the content on the site and had a good clear out. We have archived lots of news and documents, so that you can really find what you need
Structure – we have added more structure to the resources sections
Navigation – we have added a brand new top navigation menu, so you can find your way around the site more easily. We have also added another layer of navigation to the resource areas – to make sure you don't get lost.
Look and Feel – the site has a new look and feel. Much cleaner, crisper and simple to use
Related news/content – when you view a news item or an item of content, you will see a right hand panel which shows you other content that you might be interested in. It uses the key tags from the page you are looking at, and tries to find other similar things you might like.
We always welcome feedback, so it you have any comments on the site, please let Dominic know.
Joint survey - Universities as Contracting Authorities
For some time HEPA has been reviewing the issues surrounding the legal status of Universities and the requirements for institutions to adhere fully (or not) to the EU Public Contracts Directive/UK Public Procurement Regulations. Simultaneously, Mike Hanson, Director of Procurement at the University of Coventry has been undertaking a LLM in Public Procurement Law and, as part of his research, is looking for feedback on the currrent and future status of Universities.
As part of a joint project we hope you would consider completing a survey to help both HEPA and Mike build on existing information to then provide the sector with some useful insight. In the first instance the data will be gathered and collated by HEPA and shared in an anonymous format with Mike in order to support his dissertation. The data will then be used by HEPA to form an article, which, issued alongside a separate paper on the subject currently being drafted by legal firm VWV, will be useful to others in the sector. Please note, due to differences in legislation, this survey and is not directed at Scottish institutions.
Please note that any report/paper published by HEPA and/or included within the dissertation paper will not constitute legal advice. The findings will be published for information purposes and should help to show a range views across the sector. Please click here to participate and, if you have any questions, contact Emma. The closing date is 30th June.
Protecting Human Rights in the Supply Chain
Through reports in the broadcast media and in the press, the world is getting to know about widespread abuse of human rights in supply chains. Human exploitation is both easy and lucrative in many parts of the world, including the UK, where more and more cases are being brought to light and perpetrators brought to justice. Businesses are responding, as many global brands take steps to tackle this scourge of our society.
It is becoming clear that the tide of opinion is also placing greater responsibility on public purchasers to address the issue, emphasising an increasing need to understand the potential human impacts of our commercial activities. Public authorities need to start putting the infrastructure in place to achieve compliance and pursue good practice to identify, prevent and mitigate the risk of human rights violations in our supply chains.
In collaboration with CIPS, Andy Davies, Director at LUPC and Dr Olga Martin-Ortega, Reader in Public International Law at the University of Greenwich, have written an excellent document, directed at public procurement practitioners, decision-makers and opinion-formers to:
understand why promoting respect for human rights in public supply chains is important;
develop a strategic approach to human rights due diligence;
identify practical steps that can be taken to help mitigate the risk of human rights abuses in supply chains;
work in collaboration with other organisations in order to increase knowledge and promote good practice.
To read the full document please click here.
Additionally, Andy Davies recently delivered an excellent presentation to a group of local council procurement managers. This was recorded, and is available on YouTube so can be shared by you to educate others in your organisation about Modern Slavery and Human rights. To access the video please click here.
Procurement Thresholds Data
We often get asked if we have any data on the thresholds institutions use for undertaking competitive tenders. In late 2015, we undertook a small exercise on the discussion boards to pull this information together, and collated the results. Thank you to all 25 Universities who responded, you can find an infographic detailing the responses below. To download the full version, click here.
Here are some interesting supplementary facts:
44% of institutions require no quote for spend of less than £2,000, while 44% always require at least 1 quote, regardless of value. 96% require some sort of competitive process by the time spend value reaches £10,000.
60% of institutions require tenders for projects over £30,000. This has increased to 100% of respondent institutions by the time the project value reaches £50,000.
1 University begins their EU tender advertisement at £150k. The rest opted for the £172k EU requirement.
Please do get in touch with Emma if you'd like further information.
Money can buy love: 1,000 suppliers create social responsibility plans
With an annual spend of around £410m on goods and services and a £1bn campus development programme, The University of Manchester is exerting significant influence on its suppliers' approach to social and environmental issues with 1,000 now accessing its supplier engagement tool to create bespoke action plans.
Working with NETPositive Futures, the University has created a free tool which all suppliers are encouraged to use to explore their social and environmental impacts. A customised action plan is then generated for them which may help solve existing problems or embed new activity which makes a positive difference.
By using this approach, the University's Procurement Team is stimulating change in the 1,000 suppliers who have signed up and spreading best practice well beyond their normal sphere of influence. Suggested actions generated by the tool range from developing an apprenticeship programme, to promoting sustainable travel options, and are directly related to the business' own priorities.

To read the full report details and access the project information please click here.
PMA participants day - 5 reasons to attend
The national PMA Participants Day is just around the corner. Not sure if you should attend? Here are five reasons to register for the event:
Hear the latest information from fellow participants on moving up the procurement maturity ladder.
Participate in interactive sessions covering most attribute areas.
Everyone, regardless of institution size or maturity level , will learn how to implement initiatives to support more mature procurement.
Morning and afternoon workshops will feature case studies from PMA participant institutions providing concrete examples of institutional challenges and ways to overcome these. There will be an opportunity to discuss and explore experiences with presenters and among attendees.
You can help shape the PMA programme of the future – the day will include a discussion session on how the programme can evolve so that it continues to provide value to participants and the sector.
The event is open to not only Heads of Procurement, but also anyone including finance directors and contract/category manager within your institution who would benefit from learning how to improve the procurement function.
Spaces are limited – please register for the event on 26 June in London here. If you have already registered, we look forward to seeing you on the 26th!
Kissing with confidence!
Following our sold out event in February, we are running again our Advanced Impact and influence course. It is a must attend for anyone who wants to improve any aspect of the way they communicate. Delivered by the excellent Russell Wardrop from training firm Kissing with Confidence, the day will cover four key areas:
The Key Emotional Intelligence Skills of Star Performers
Projecting a Powerful Presence
The Art of Influence: Factors at Play
The Four Stages of the Business Development Meeting
Larissa Morrish, Head of Procurement at the University of Lancaster attended last time and said of the day "All killer, no filler. One of those courses which is a lightbulb moment. Made me reflect on my own delivery style and provided practical tips on how to move from 'OK' to 'great'."
Chris Philpott, Head of Procurement at the University of East London also commented, saying "I thought the day was first class. The trainer took it along at just the right pace and although there was a lot to take in, it never felt rushed. He had an excellent, engaging style and got the balance between practical role play and theory spot on"
The course is ideal for Heads of Department, Finance Directors and other senior personnel required to communicate and influence others.
The event will run for a full day in the centre of Leeds on October 12th, for the complete information and to book please click here. Places are limited.
Job of the Month
Our Job of the Month is for an Assistant Category Manager at the University of Reading. The successful candidate will be "responsible for Supporting purchasing activity, analysis of cost data and savings opportunities and investigating market information in support of the procurement Category Management team." The deadline for applications is the 1st July. Other sector Procurement jobs are a little thin on the ground at the moment, but there are half a dozen listed on the new HEPA website.
Follow @the_hepa